COVID-19
Coronavirus Pandemic Update for September 17, 2020.
According to the California Department of Public Health (CDPH), as of June 18, 2020, "Californians must wear face coverings when in higher-risk situations"; learn more about the CDPH guidance here.
Our thoughts are with everyone impacted by the global outbreak of COVID-19. We want you to know that we are monitoring the situation closely because the health and safety of our employees and customers is our priority.
For Customers & Employees
Mautto is following the guidance of the Centers for Disease Control and Prevention (CDC), World Health Organization (WHO) and local/state governments. We continue to practice clean and healthy practices in the workplace and at home (for those working remotely).
We are processing and shipping orders within the normal time frame (2-14 calendar days, depending on your order).
On behalf of the entire Mautto team, we want to thank you for supporting local businesses based in the USA.
We wish you and your loved ones all the best during these challenging times.
Stay safe and healthy!
Frequently Asked Questions
Are you still open for business? Yes, we are open and taking orders online. Orders are being shipped within the normal time frames.
Is it safe to receive and handle a package? The CDC and WHO have stated that handling packages shipped by carriers poses a low risk. Before your package leaves Mautto, it is handled with utmost care and concern for your health.
Will there be a delay in receiving my order? For customers within the USA, you may experience a 1-2 day shipping delay (learn more at the USPS Service Alert page). Other shipping carriers have also announced shipping delays. For international shipments, you may experience a delay of 1-4 weeks. Please see the USPS "Service Disruptions" page.
For the Community
Mautto is doing its part to help fight the spread of COVID-19 by offering cloth face coverings (see photo and details below), at near-or-below cost. We are making these as fast as we can, using fun and fashionable materials from our inventory. We are donating these to local Santa Cruz County hospitals in need and making them available to our customers (see below), while supplies last.
Mautto Face Coverings Available!
The CDC recommends everyone (healthy or sick) should "cover your mouth and nose with a cloth face cover when around others" to reduce the spread of COVID-19. Many regions of the USA are now starting to require face coverings when in public places.
"Thank you for the masks! They fit beautifully and we are able to share some with my in-laws and neighborhood friends. We're all staying safe and you've helped us with that."
- Sarah, CA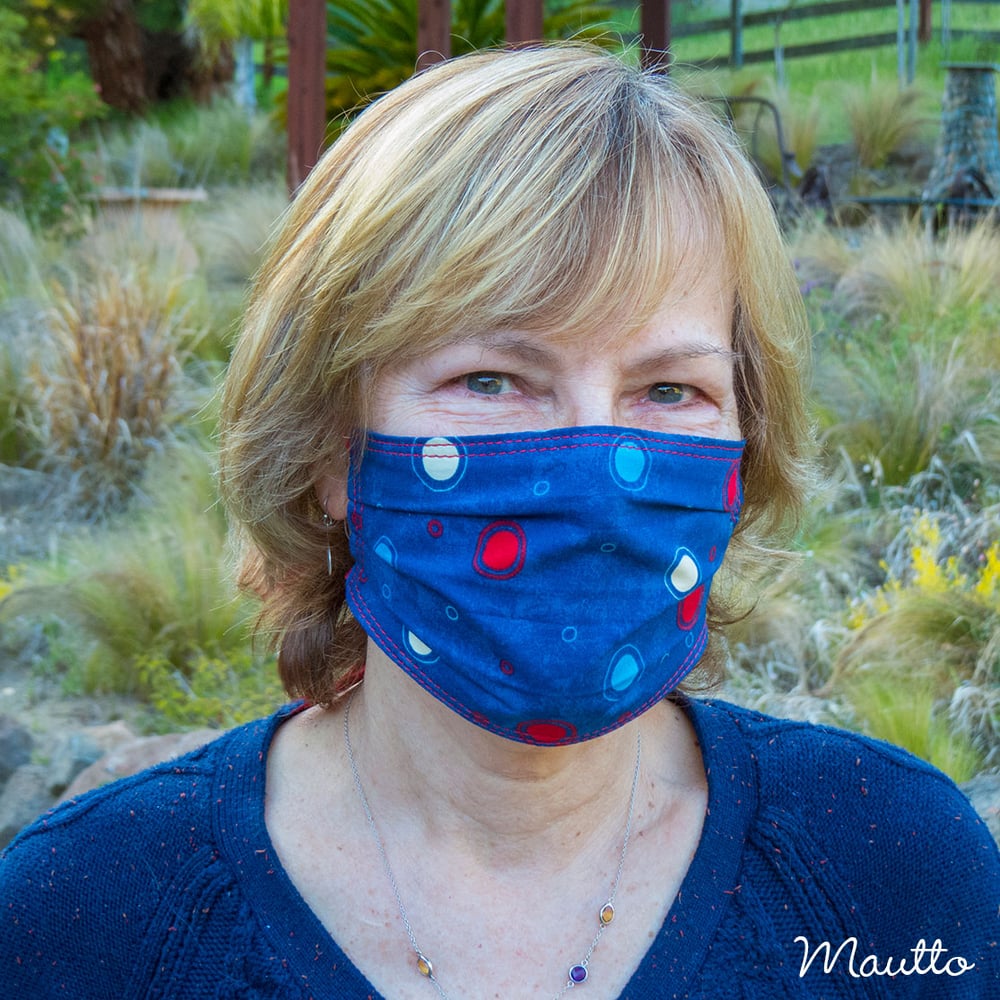 "Thank you...love them!"
- Susan, CA