FAQ
About handbag strap repair, replacements, length, fit, colors and more!
Question Categories:
Repairs
Replacements
Uses & Bag Conversions
Length & Fit
Colors
Quality
Order Status, Returns & Exchanges
Strap Repair
How do you fix a strap for a bag/purse/clutch/handbag?
That depends on the damage, what's being fixed and your expertise. If you don't have the tools or experience, then we recommend contacting us to learn more about our repair services. Typical repair jobs include replacing a broken piece of hardware, shortening a strap due to leather damage, or extending the length of a damaged strap with luxury chain. Generally speaking, if a strap is damaged and can't safely carry your bag's weight, we recommend replacing it with a new attachable strap. All Mautto straps include attachable hooks that can be applied to a handbag in seconds.
Can a broken bag strap be fixed or repaired?
Yes, in some cases, we may be able to repair your broken strap! We've replaced broken hardware, created new straps using existing hardware and even completely repaired straps that seemed unusable. Contact us today! And if we can't fix it, we're hopeful you'll be able to find a similar replacement from our collection of genuine leather and chain straps. Learn more about color options, how to choose a strap color that complements your bag and read a few customer success stories for more information.
Strap Replacement
Can you replace a purse strap?

—or—


Can I buy a new strap for my bag/purse/clutch/handbag?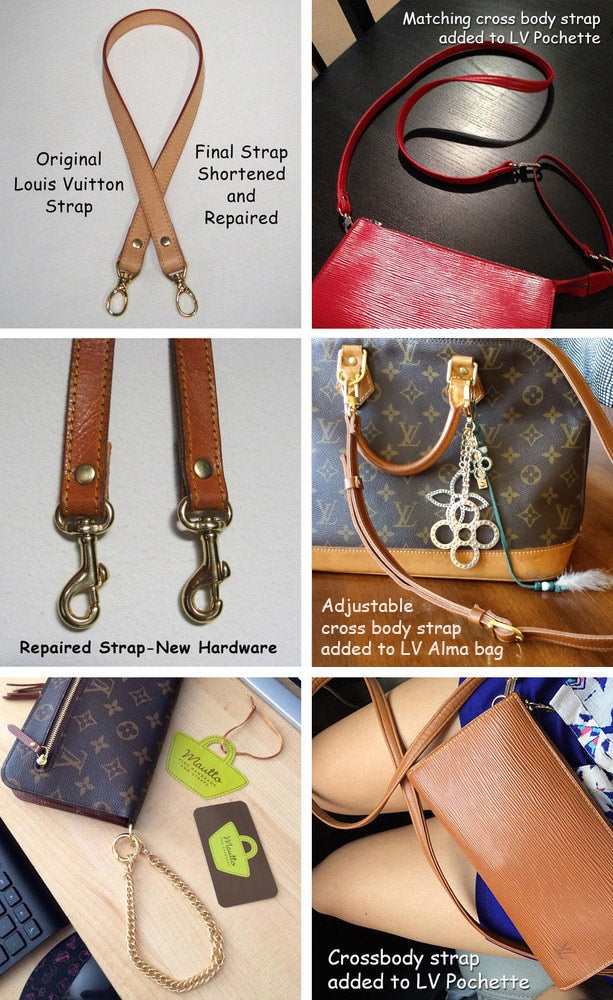 This depends on the type of strap your bag uses. If your strap is detachable, then absolutely! Even if it's not detachable, a new strap can usually be attached to existing handbag hardware. We provide replacement straps that can be quickly attached to your bag using our attachable hooks.
I purchased a bag on eBay and it didn't come with straps. Can the missing strap(s) be replaced?
In most cases, yes. We receive inquiries of this type all the time. We know this can be frustrating, but rest assured that our selection of attachable straps will have you rocking that new bag in no time! We suggest viewing our Leather Colors & Chain Strap Options page to get started.
Can I get an exact replacement or replica strap for my designer bag?

—or—


Can I buy just the strap for a Louis Vuitton, Coach, Chanel, Fendi, Michael Kors or other luxury handbag maker?

In some cases, yes. You'll want to contact your bag's manufacturer for details. In our experience, the ones that do provide exact replacements, are often very expensive (we've heard upwards of $300) and can take weeks (even months) to have replaced. If you're hoping to get a replacement strap soon and affordably, then we recommend finding an alternative leather or chain strap.
Do you carry or use "Saffiano" leather for your straps?
Saffiano leather typically has the textured cross hatch print/pattern/coating, used by many designer brands these days. We do not use this type of finish on our straps. We prefer to allow the genuine texture, grain and pebbling of the leather show (beautifully) on our straps. While the Saffiano look is stylish, it may not be as comfortable as our leathers, which are most similar to the leathers used in luxury cars and garments. That is to say, they are soft and pliable. Many of our customers have found our leather straps to be more comfortable and offer a suitable finish for their bags.
Can a drawstring be replaced on my bucket bag or other handbag?
Most likely! You're not alone...we receive requests for these often. We make replacement drawstrings, available in 25 leather colors and 4 different lengths, designed to complement many styles of bags.
Can a custom strap be made to match my bag?
In many cases, yes. If you need a custom length, color, material or size, then let us know! We complete custom strap orders all the time for Mautto customers.
My dog/cat/rabbit/leather-hungry-but-beloved-pet chewed my strap. Can I get it replaced or fixed?
Oh, our adored pets! We hear these types of stories all the time. Luckily, a strap that's been chewed through, heavily damaged or ruined by your leather-hungry pet, can often be replaced. We offer hundreds of leather strap styles including different widths and lengths. Or, you might consider a chain strap—chewing through metal is next to impossible (unless of course your pet is Jaws).
Using Detachable Straps & Converting a Bag
Can you change the strap on a bag?
If your bag has metal hardware that can accept an attachable hook, then you should be able to quickly remove and replace your existing strap with a different one. Why would you want to do that? If your existing strap is meant to be worn on the shoulder, but you'd like to wear the bag in cross body position or need to have a shorter strap, simply use a different length strap that meets your needs and swap out the new strap whenever you want. Easy as that! With a few different detachable straps in your accessory closet or wardrobe, you can pick the perfect strap for your perfect bag, outfit or occasion. Swap your bag's strap like you would change a scarf or piece of jewelry to fit your mood.
How do you attach and remove a strap to/from a bag?
That depends on the type of strap used on your bag. Some bags have straps stitched/fixed into place and can't easily be removed or replaced. Others have removable straps that can be quickly taken off and replaced using attachable hooks. All Mautto straps use this type of hook, making it very easy to add a new strap to your bag to fit your needs.
Can I convert my clutch or purse into a cross body bag?
If your bag has hardware on it that will accept an attachable hook, then yes! Many do, which opens up your bag to additional uses (how fun!). For example, if your purse is worn tight against your underarm, you can use a longer strap to wear the purse as a cross body (two free up your hands, or for added security during sporting events, public outings, etc). The choice and purpose is really up to you and the possibilities are endless! With our detachable straps, you can wear your handbag the way you like and are most comfortable with.
Strap Length and Fit
How do I pick the right strap length or width for my bag?
Choosing the right strap length or width is a matter of personal preference. For more information on strap fitment and usage, please see our Size Guide.
How do you measure the strap length?
Strap length is the maximum measurement of the strap, from one end to another, including the hardware (hooks). See "B" on the diagram.
How do you measure "drop length"? What is drop length?
Drop length is defined as the distance between the peak of the strap to the top of the bag when worn or held. See "A" on the diagram. Drop length varies by handbag and use. Here are a few rough estimates of drop length and its relation to how a bag is worn:
7" drop length or less is typically carried in the hand or tightly under the arm (hobo).
8"-20" drop length is typically carried on the shoulder
21" drop length or more is typically worn in the cross body or messenger positions. Can also be suitable for a long shoulder bag for taller women or those who prefer a low-hanging bag.
How long is a cross body strap? How long of a strap do I need to wear my bag in the cross body or messenger position?
Most cross body or messenger style bags have strap lengths in the 40-60" range. The length of cross body strap for your needs will depend on the bag, your size, amount of clothing and your comfort level. Keep in mind, the length of a cross body bag is a personal preference. You may be most comfortable wearing your handbag around the waistline, where for others it may be low on the hip. Allow your new strap to be comfortable for you. For example, a petite woman wearing a t-shirt, may find a 40" strap to be ideal. Or, a tall woman wearing a large jacket during the winter, may find a 60" strap to be ideal. Because your clothing and size can impact how a cross body bag lays against your body, we often recommend an adjustable strap for maximum flexibility and fine-tuning.
Can you make a purse strap longer for my bag?
There are two ways to make a purse strap longer: (1) Replace the existing with a longer, more suitable strap, such as a cross body or adjustable length, or (2) extend your existing strap using a chain extender. A chain strap extender allows you to add from 6" to 30" of strap length, to your existing strap if your bag supports attaching and removing a hook.
Strap Color Choices & Misc
How do I match the color of my bag with a Mautto strap?
Start by viewing our leather color options page. With over 70 colors available, most customers are able to find the right color for their bag. However, if a suitable color can't be found, we recommend trying an accent color or chain strap. A metal, gold-tone, silver-tone, gunmetal or antique brass chain strap, can provide a new level of elegance and class to your bag.
Can I get leather samples if I'm not sure which color to choose?
Yes! You can purchase small color swatches from us so you can verify a suitable color before purchasing a strap. Leather, suede and webbing samples are available for a small fee.
I have more questions that aren't answered here. Who do I contact?
We'd love to hear from you! Please contact us using our simple form.
Strap & Handbag Quality
What type of leather is used with your straps and handbags?
Only the best! Okay, so that's totally cliché, but it's also true. All leathers are hand-picked for their consistency, feel, grain, softness, sturdiness and many other factors that make a Mautto leather product one that you'll be proud to carry. The quality and grade of leather is comparable to that used by luxury car brands and in high-end garments.
Are there imperfections in the leather?
Yes, but don't worry, imperfections are difficult to spot and generally not noticeable. When we select leather for your strap or handbag, great care is taken to guarantee a consistent surface is used. You will NOT notice common genuine leather imperfections like brand scars, blisters or stretch marks. We carefully cut around that stuff so your strap or handbag looks its best.
Does the leather "age" over time? How do you age leather faster?
Yes. Leather, like everything else (except the person that wrote this FAQ), ages over time and differently depending on the leather and use. You may notice more pronounced wrinkles or slight discoloration, or no change at all, depending on how hard the leather is used. Which leads to the last question...if you want to age the leather faster, then use it more! Either way, aged leather will look natural and probably wiser, just like we do when we age :-)
What type of chain is used?
Only the best! Okay, so we've already gone down this path. But really, our relentless pursuit for perfection won't allow us to use inferior inputs. All Mautto chain is solid metal with either a gold-tone, nickel/silver-tone, gunmetal or antique brass finish, and has the look, feel and sound of jewelry. We do NOT use aluminum or plastic chain. That's the cheap stuff, which we stay away from.
Tell me more about the strap hooks/clasps/hardware.
All hooks/clasps/hardware are attachable so they can be quickly connected to your bag. They are heavy duty and selected for their high-quality finish, durability, look & feel.
How are Mautto straps and handbags made?
Hey now, that's our "secret sauce" and we're not giving it away! Okay, so maybe we'll share a little. Our straps are made by hand, using carefully chosen pieces of leather hide, double-stitched down both sides, and with rolled edges that won't fray or tear. We've been making handbags for many, many years, and we know that the strap is the most stressed part of your bag. So what? So, we've created straps that are built to last! Our handbag making process is much more complicated, but still made by hand from start to finish. The only machine used in ANY of our products is a sewing machine :-)
Order Status, Shipping Information, Returns & Exchanges
What happens after I complete my order?
You will receive an email confirmation that includes your order details (if you did not receive an email confirmation/receipt, please contact us with your 10-digit order number). Your order will then be processed and put in the production queue. When complete (most Mautto products are made-by-hand, as ordered), your order will be shipped and an email notification sent (to the email address used with your order) with tracking information.
Has my order shipped? How do I know?
When your order is shipped, an email notification will be sent with tracking information, to the email address used with your order.
How long does it take to ship my order and how long will it take to receive?
All Mautto products are made-by-hand, as ordered, and generally ship in 7-14 days (unless noted otherwise on the product page). Once shipped, you should receive your order in 3-5 business days for orders in the United States. All orders in the United States are shipped free of charge using USPS First Class or Priority Mail, depending on the total size and weight of your order. International orders are shipped via USPS International Priority Mail or USPS First Class International Mail. If you need your order as quickly as possible, Shipping & Production upgrade options are available at checkout.
I haven't received my order yet. What can I do?
If your order was placed more than 14 days ago and you have not received an email notification with tracking information, or you haven't received your order, please contact us right away. Be sure to include your 10-digit order number (listed on the email sent when your order was placed in #ABCD-123456 format) and date of order.
Do you ship to my country? If so, how much will it cost for shipping?
We ship to the following countries: Australia, Belgium, Canada, Finland, France, Germany, Ireland, Norway, Singapore, Sweden, Switzerland, United Kingdom and United States of America. If your country is not listed, please contact us for a customized shipping quote. International orders are shipped via USPS International Priority Mail or USPS First Class International Mail. The cost for shipping varies by country, order size and weight.
How do I return or exchange something I ordered?
Your complete satisfaction is guaranteed. If you are unhappy with your purchase for any reason, please see our Returns & Exchanges policy.
Feedback, Praise, Random & Misc
I don't like this, or, I don't like that. Who can I vent to?
Sorry, we don't offer counseling services, but we will hear you out! Alright, alright...enough funny stuff. Seriously though, we really appreciate feedback, because it usually helps us improve the customer experience or products we offer. Simply use our contact form to let us know what's on your mind. You'll hear back from us too.
I have an idea! Who do I contact or share it with?
That's great! Please use our contact form to let us know. If the idea gets implemented, we'll be sure to let you know (and maybe even reward you!).
Mautto is the best! Can I be a fan-girl (or boy)?
Sure! Feel free to share the love on our Facebook page, post your experience(s) in the PurseForum, or simply send us a testimonial via our contact form. Thank you. The support and love we get from so many of you really makes the Mautto Team feel good!