Custom Replacement Straps & Handles for Christian Dior Handbags/Purses/Bags
$

47.00 Sold Out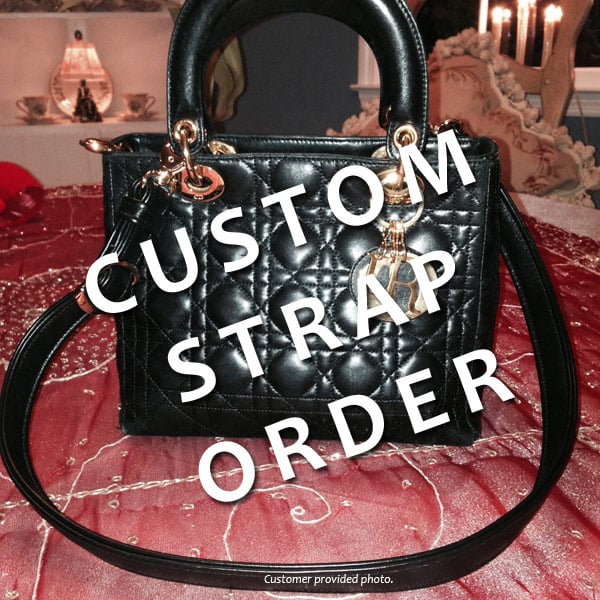 Ships FREE to the USA!

Strap Size Guide
Color Samples
This is the Dior custom strap order page for Mautto customers. If this is your first visit to mautto.com, please view our Replacement & Accessory Strap Collections
Please note: Mautto does not create replica designer straps. We create alternatives that serve a similar purpose (allow a bag to be carried), and meet or exceed the quality standards of high-end bag makers. Please contact your local official retailer for authentic replacement parts. Mautto is an independent company and not affiliated with Christian Dior.
---
We have over 70 genuine leather colors for your strap replacement needs. Customers have found the following colors to be either exact or very close matches to their Christian Dior bag: Black. Other colors may work beautifully; free leather samples can be provided.
---
This listing is for a custom shoulder strap for Pam's Lady Dior handbag.
Total length: 35 inches (with adjustable slider hardware)
Hardware: Matching Gold
Width: 1 inch "Classic" width
Leather: Matching Low Pebble Black
"I just received my handbag strap. I am so pleased with it! The whole package...perfect, very impressed! Thank you so much." -Pam (added shoulder strap to Lady Dior)
---
All strap orders are made by hand in California, USA, and generally ship in 7-14 days. Accessories generally ship in 2-5 days. Expedite Your Order

Quality craftsmanship you can trust! Mautto products are crafted to give you a professional look that complement the finest designer bags. Your complete satisfaction is guaranteed. If you are unhappy with your purchase for any reason, return it within 45 days of purchase.
Share